Download Brochure
We cater for school performances, workshops and curriculum programs.
Download the brochure here.
Assembly Shows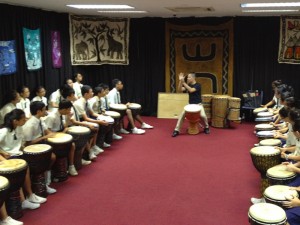 African Drumming Performance I – West African Djembe

African Drumming Performance II – Ivory Coast

World Drumming from around the globe
» Energetic live drumming performance.
» Demonstration of traditional drums and percussion instruments from African and other parts of the world.
» Interactive drumming involving audience and performers.
» 'Hands-on' training in basic ethnic rhythms from Africa and other parts of the world.
Thank you for the wonderful & interactive performance! Our pupils love it very much!

– Mrs Ivy Wai, Teacher, Loyang Primary School
Enrichment Lessons and Workshops
African Drumming Workshop with hands on interaction

African Djembe Drumming 7-Lesson Program

World Drumming & Percussion Lessons

Improvisation Skills in Rhythm / Drumming
» Lessons with professional percussionists.
» Drumming to centuries-old traditional rhythms.
» Creating music with peers.
» Enriching experience in addition to existing academic environment.
We would like to thank the instructors who were so bubbly & really liven up the workshop. They also brought a lot of fun into the busy schedule of our students. The teachers really enjoyed themselves too!

– Ms Ang Weili, Aesthetics Department, Chung Cheng High School (Main)
All our programs are endorsed under National Arts Council's Arts Education Program (NAC-AEP), which are eligible for 50% subsidy from Tote Board Arts Grant.
Contact Us
For further enquiries or program conceptualization, send us a message here or simply email schoolprograms@liladrums.com